Introduction
TeamSpeak 3 is a voice communications (voice comms) tool for real time voice chat over the internet. This is sometimes referred to as voice over IP (VOIP).
It is designed for people to be able to chat with each other while playing a game. This takes team based games to a whole new level as you are able to quickly issue orders and report incidents without having to stop and type your message.
This guide will cover:
Getting the TeamSpeak software.
Setting up and connecting to a server
This guide is not meant to be a complete guide to using TeamSpeak. If you want more information, then look at the FAQ section of the TeamSpeak website: www.teamspeak.com
Step 1 – Getting the Software
Visit the download page
Assuming you are running a version of Microsoft Windows, you will need 'TS3 Client' 32 or 64 bit. TeamSpeak is completely freeware, so there is nothing to pay.
Once the software has downloaded, run the executable and follow the installation instructions. Once it is installed it might be useful to place a shortcut on the desktop (if it hasn't already) or even on the 'Quick Launch' bar. This is entirely up to you.
Step 2 – Setting Up and Connecting to a Server
When you start TeamSpeak client, the following window will appear: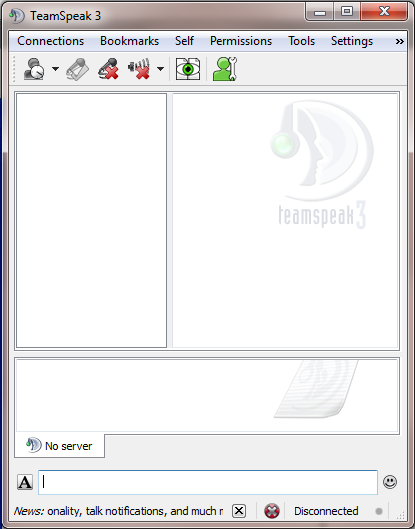 Go to Add to Bookmarks.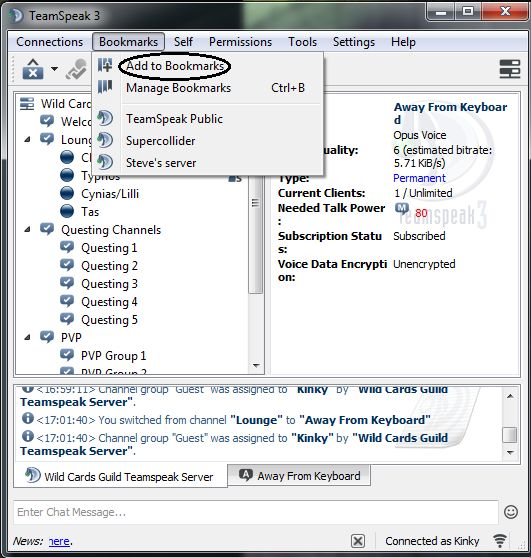 The following window will appear.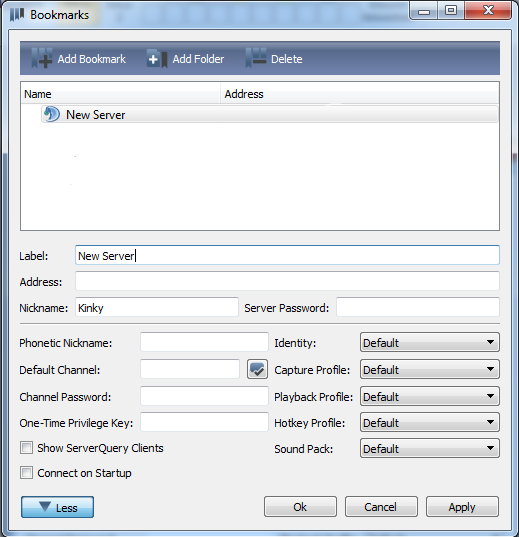 Here we need fill in the information for the Wildcards teamspeak server.
1) Click on Add Bookmark.
2) Adjust the Label: to Wild Cards Guild Teamspeak Server.
3) In Address: you will need to fill in the ip address and port which can be found in the guild information in game.
4) In Nickname: fill in the name of your main Character.
5) In Server Password you need to fill in the password which you can find ingame under guild info.
6) Click "Apply" then "Ok"
Now you are ready to connect to the Wild Cards Teamspeak Server.
You can do this by clicking on "Bookmarks" and then click "Wild Cards Teamspeak Server".
We Look forward to talking you :P
A great but fast youtube video showing you how to set up TS3 to announce people who enter and leave the channel, no more "a user has entered the channel".